This enchanting destination offers a unique blend of history, natural beauty, and modern comforts, making it the perfect retreat for those seeking a truly unforgettable experience.
Swiftwater Residences seamlessly combines the past with the present, offering guests a luxurious and comfortable stay. The accommodations, nestled amidst the towering mountains, are designed to provide a cozy and intimate atmosphere. From exterior architecture to the suites, every room is thoughtfully decorated, ensuring a restful night's sleep after a day of exploration.
Speaking of exploration, the Cascade Mountains offer a playground for outdoor enthusiasts of all kinds. Whether you're an avid hiker, a passionate golfer, or simply someone who enjoys the serenity of nature, this resort has something for everyone. Embark on a hike through the lush forests, where you'll discover breathtaking vistas. Cast your line into crystal-clear streams, teeming with trout, and experience the thrill of reeling in your catch of the day. Or simply relax on the resort's expansive grounds, surrounded by the tranquility of nature.
After a day of adventure and outdoor activities, indulge in the resort's culinary delights. The on-site restaurant, Swiftwater Cellars-is a beautifully mountain modern structure that offers a menu which showcases the region's finest ingredients. From local and regional farmed proteins and vegetables to the exquisite wines sourced from local vineyards, every bite is a celebration of the state's culinary heritage.
But the true magic of this mini resort lies in its connection to the community. 4 miles from Swiftwater Residences is the town of Roslyn. The locals, proud of their heritage, warmly welcome visitors, eager to share their stories and traditions. Take a stroll through the charming streets of the old mining town, where you'll find quaint shops selling handmade crafts and local delicacies. Engage in conversations with the friendly residents, and you'll gain a deeper appreciation for the resilience and spirit that defines this community.
In this mini resort nestled in the Cascade Mountains, time seems to stand still. It's a place where history comes alive, where nature's beauty takes center stage, and where the warmth of the community envelops you. So, come and experience the magic for yourself, and create memories that will last a lifetime in this captivating destination.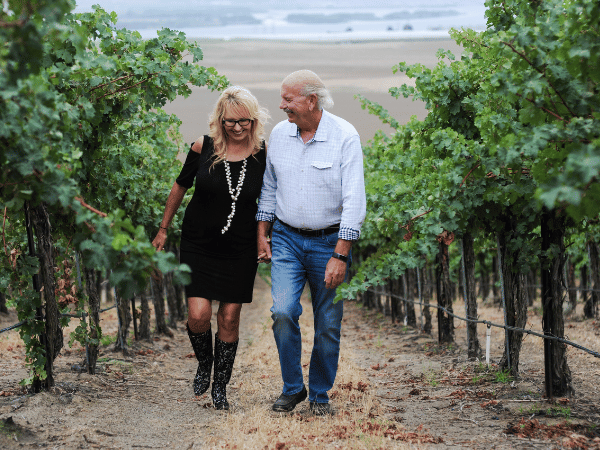 Since buying land on the Suncadia resort in the early 2000's Don and Lori Watts have always harbored a shared dream of owning their very own lodging component to add to their successful winery, Swiftwater Cellars, built in 2010. Their vision was always to create a haven of relaxation and entertainment nestled amidst the awe-inspiring Cascade Mountains. With their passion for hospitality and their unwavering commitment to providing an unforgettable experience, the Watts have been determined to make their dream come true for over a decade. They welcome you to The Residences at Swiftwater Cellars.
The vision extends beyond just providing a place to stay and explore. The Watts work hard to create a sense of community within The Residences, where guests can connect with one another and make a lifetime of memories. They have collaborated with nearby artisans and businesses, showcasing their art and products to enhance the overall experience. By fostering these connections, Don and Lori hope to create a vibrant and inclusive atmosphere that celebrates the spirit of this beautiful community. The Watts family and team have been tirelessly planning every aspect of the homes. They have sought guidance from industry experts, attended hospitality conferences, and immersed themselves in the world of resort management. Their dedication and attention to detail are evident in every decision they make, ensuring that their guests will have an unforgettable and truly exceptional experience.
Experiencing the foothills of the Cascades
Exploring the ample activities that Cle-Elum-Roslyn has to offer means embracing the outdoors, treating your palate, exploring the community, and so much more. The biggest challenge might be deciding where to begin…